Hamleys, 'the toy shop' released earlier in the week, this year's top 10 toys for this Christmas. And the list was, well dominated by hi-tech toys. Toys I have never heard of, and I have a nine year old. Who at the moment is just interested in the World Cup, Hiccup and Toothless, Vikings and Lego. So the list below is possibly alien to him. And to be honest there has been no mention of his Father Christmas list, yet this year. Anyway this is the Hamleys list for Christmas 2014:
1. My Friend Cayla (£75)
2. Doh Vinci Style and Store Vanity design kit (£25)
3. Kidizoom Smart Watch (£50)
4. Barbie Colour Change Bag (£40)
5. Teksta T-Rex (£59.99)
6. Leapfrog LeapTV (£135)
7. Transformers Chomp & Stomp robot (£115)
8. BoomCo Rapid Madness blaster (£65)
9. Ice Skating Anna & Elsa from Frozen (£30)
10. Xeno toy (£100)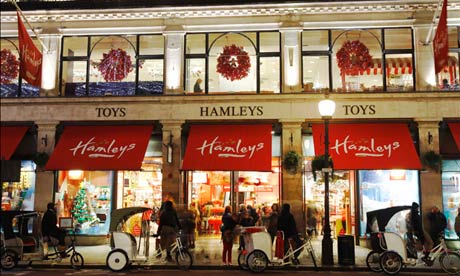 The first thing that struck me is that the Tranformers robot is
£115, that is $210 Australian dollars. You can get a bike for that. A bike. Now that got me thinking what did I want when I was 9'ish in the 70's, for Christmas. Well a bike was top of the list along with a Hornby railway set, with the Flying Scotsman engine. And I was really lucky to get both, on separate Christmases. The bike wasn't new, but I loved it and I am sure my father was more excited about the railway set than I was.
But what else was top of the list of toys, for a boy in the 70's. I have no idea what was top of my sister's list but I do remember that an Action Man with as much military equipment was essential. Lego, as now with our son was always on the list and I think I was happy with that.
I am sure though at some stage some of the following toys would have been somewhere in the mix and between myself and my sister, I do remember them being in the house. The Etch A Sketch, which was real hi-tech then. The sketch was a sketching toy, that basically draw straight lines and right angles. But if you were really cool, you could put a curve or bend on a corner.
For slightly older children, there was the brainy kids toy. Mastermind. A game of colour pegs. Guess the correct peg colour in order. Yep that was one toy that frequently flew across the room.
I didn't have the next toy but my best mate did (and we have it now). Mousetrap. A crazy board game of building plastic pieces together to catch a plastic mouse. I loved this game possibly because I didn't have it. I do remember it being more fun then than now as an adult.
Then there was Tonka. Oh how I loved my Tonka toys. Before the health and safety brigade got hold of toys, this was the toy for digging up your mum's prized rose bush and for getting cut to ribbons. And it wasn't from the roses. Tonka toys were sharp as anything but I loved them to death. I still have them, well mum does at least. I wouldn't let my son near them. The Cotton Wool generation and all.
As already mentioned, Lego. The KING of all toys. At any age since the 40's this has to be the best toy in the world. It is creative and building is only limited by your imagination. Unlike hi-tech toys. Now where did I put my smartphone?
Image Source: The Guardian